Dovetail joints have been used in the construction of fine furniture and cabinetry for centuries. Craftsmen have long known the advantage of the mechanical strength of the dovetail when used in making drawer boxes along with the aesthetic beauty of the joint itself.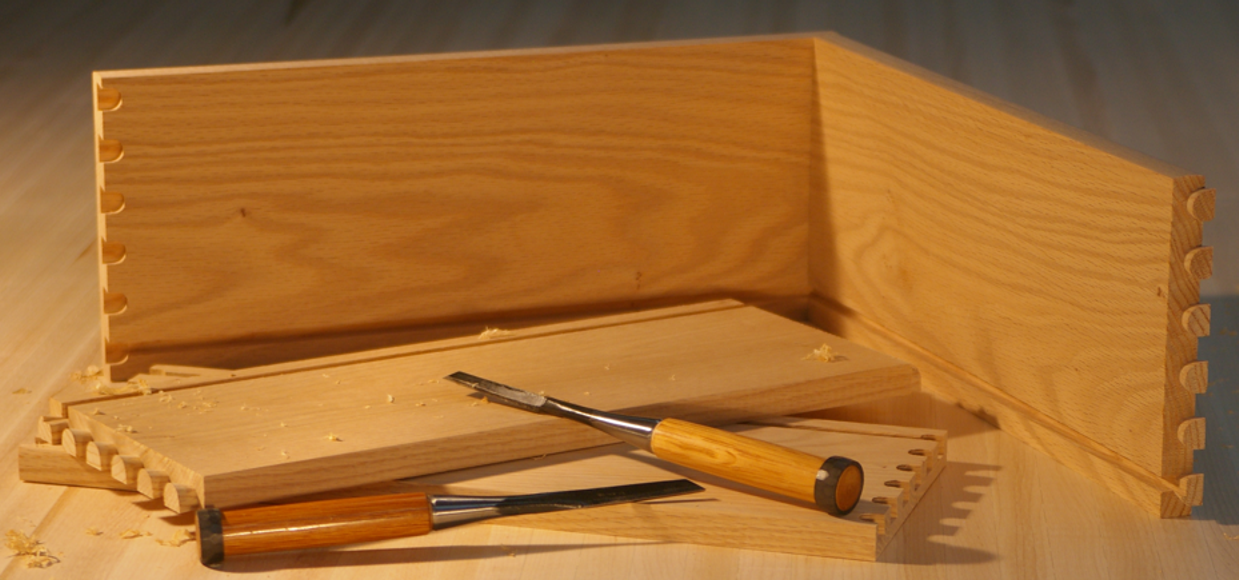 Our dovetail drawer boxes have 5/8" thick solid wood sides and are available in several different wood species with a matching plywood bottom. The natural color range of the wood is allowed with an option of select wood available for most wood species. If the front of the drawer box or pull-out is visible, you can request an upgrade to use a select wood on the face, or even a different wood species in a select grade than the remainder of the box.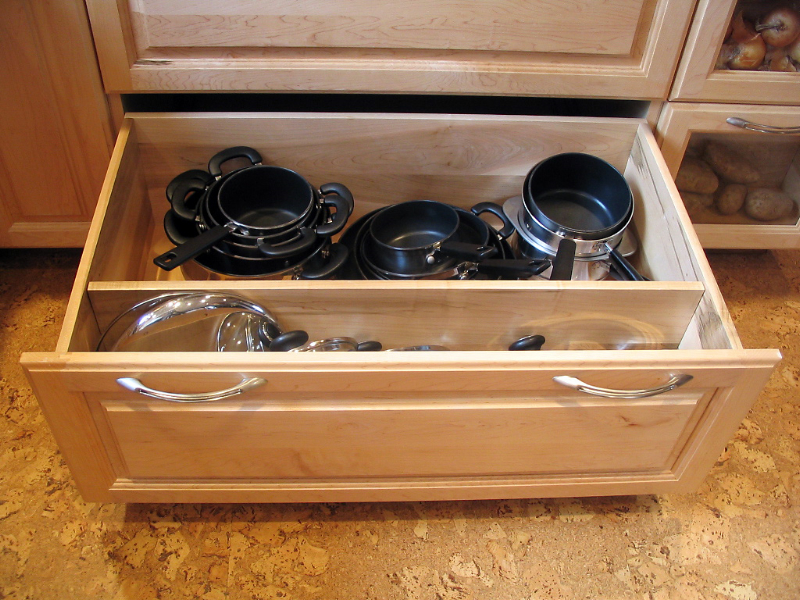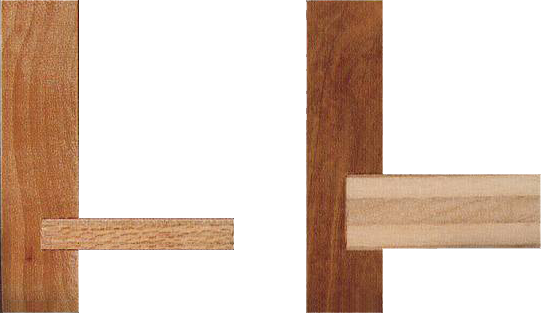 The 1/4" thick drawer bottom can be reinforced on 30" or wider drawer boxes with a center solid wood cleat installed on the underside. You can also upgrade to a 1/2" thick plywood bottom on most wood species (results in a small notch hole above and/or below the lowest dovetail tail which is filled with color matching epoxy in cases where drawer boxes are sent out assembled.)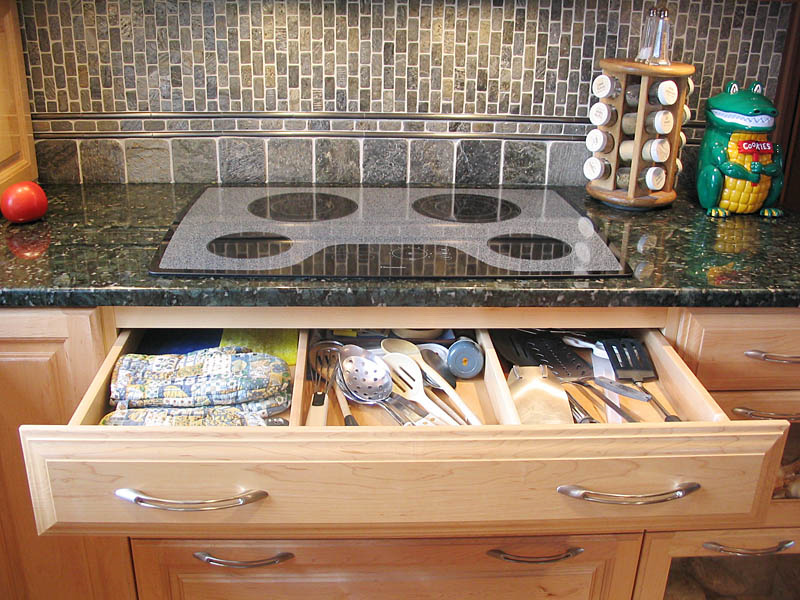 The drawer boxes are constructed using the dovetail joint in all four corners of the box. You can order the dovetailed drawer boxes unassembled, assembled, or assembled and finished.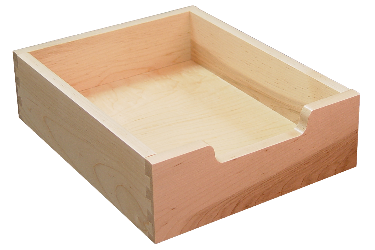 A hand pull scoop front is available on interior drawers in both ogee and arch styles (ogee shown above.)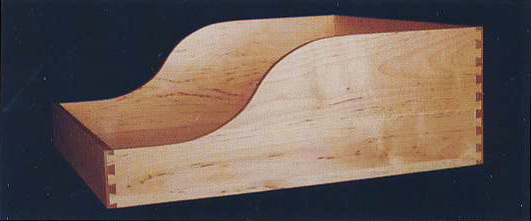 Cut down drawer sides can be ordered in three designs; a Straight Taper, a Half Taper with a flat top half way and a taper the remaining distance, and an S-Curve side (shown above.)

Scherr's can provide the notch and bore requirements for the popular undermount drawer tracks. The example shown above appears on the bottom and in the back of the drawer box (where it will not be seen when in use) and is required for some drawer tracks to function properly.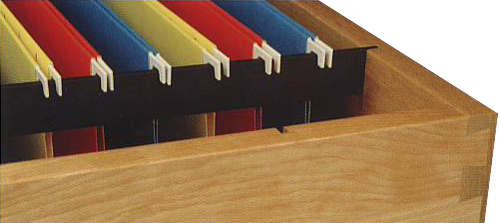 Hanging files install easily with pre-cut slots in 10" tall file drawers. The rail is 1/8" by 3/4" for spans up to 24", and 1/8" by 1" for spans over 24". We can supply the rails with the drawers, or you can supply your own, let us know when you are placing your order. Specify whether you want legal and/or letter files and how you want them positioned.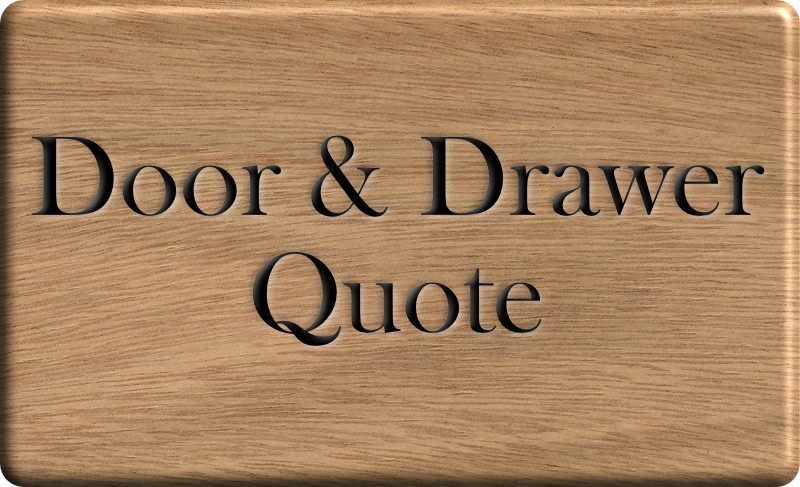 Visit our online shopping section to see kitchen accessories, gifts and more, utilizing our solid wood drawer boxes!