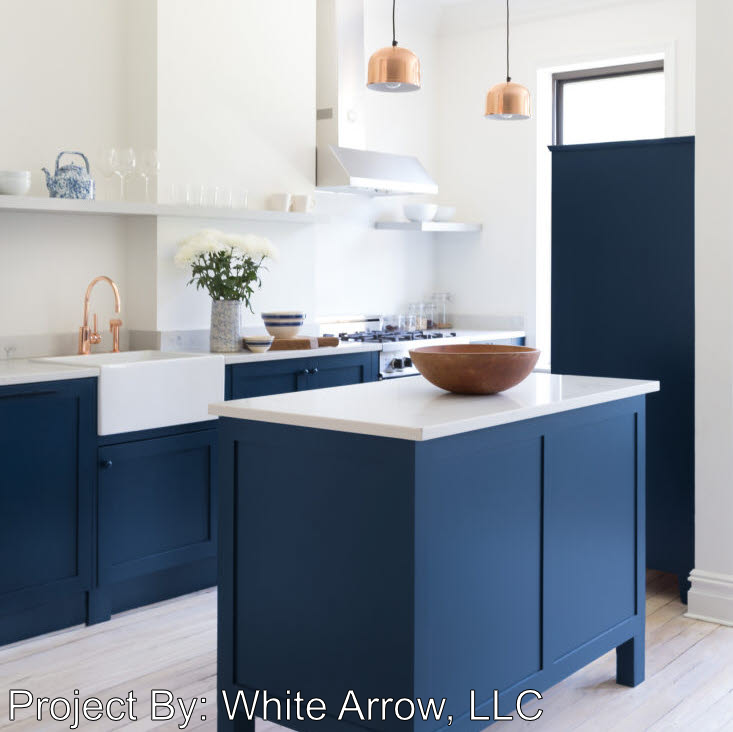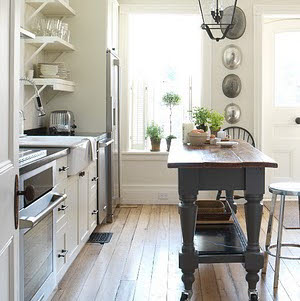 If you have (or are planning on purchasing) kitchen cabinet boxes and hardware from IKEA, but want a look and feel that IKEA doesn't offer - you've come to the right place.
Our shop and sales team are fully equipped to handle making doors, drawer fronts, trim, and other components to work with IKEA's AKURUM and SEKTION lines of cabinetry (as of right now we do not support IKEA's floating bathroom or closet cabinet sets.) We'd like to be clear - we make high quality custom cabinets and we'd love to make your entire kitchen. As an alternative to having us build your cabinets, you can purchase IKEA cabinets and have us make your doors. We trust you to make the best decision for YOU.
How do I order Doors and Drawer Fronts to fit IKEA cabinets?
IKEA has some great online resources, such as their IKEA online planner which allows you to create a 3d model to place and configure your cabinets. If you've taken this route you will be given the option to share a link to or create a pdf of the project (keep in mind this may change over time.) You can send us the link to your project or send us the pdf to sales@scherrs.com. We are very familiar with most all the configurations IKEA has for the AKURUM and SEKTION lines and can work from the "item list" generated from the IKEA planner. You will need to build your kitchen or project in the planner with the doors and drawer fronts on. It would normally make sense to build your cabinets in the planner without the fronts since you wouldn't be ordering them from IKEA, however; cabinets made by IKEA can have many different configurations for each cabinet model and it's necessary for us to see how you plan on having your cabinets made and configured.
There is another great resource for designing and planning out IKEA kitchen cabinets and that's over at IKD - https://inspiredkitchendesign.com/. We can work with their plans as well, just be sure to have an IKEA "item list" to accompany the plans they create with you.
Modifications
If you plan on modifying the height or width of their cabinets, you will need to specify which model of cabinet you are modifying as well as the before and after dimensions. (e.g. "we'll be modifying cabinet #12, SE W1D 18x15x40 to be 5" shorter or 18x15x35".) If you are modifying the depth, you don't need to worry about giving us any more information. If you modify a cabinet on your own, you will need to supply the measurements of any custom door or drawer fronts needed for them. We do not take responsibility for incorrect measurements on doors and drawer fronts made for modified IKEA cabinetry.
Other components
If you want any of the following things made to match the doors and drawer fronts you'll be ordering from us, you need to include some information in your email to us:
End-panels or cover-panels for cabinets that are visible on their lateral sides, to divide cabinets of different heights or elevations, or for the back of peninsulas or islands. Flat panels are made standard from MDF, upgrades available to ply material for grain matching or wainscot panels (panels to match style of doors.) Sometimes IKEA will send an over-sized panel that would get cut down by the customer. In order to save on shipping costs, it is advised to give us the final dimensions and have us make them to size. If your panel spans the width of multiple cabinets you will need to give us the measurements either by physically taking it with a tape measure or by calculating it.

Custom appliance panels

Toe-kicks, crown molding, light rail, fillers, deco-strips, etc.

Toe Kicks = total length in feet

Crown Molding, Deco Strips, & Light Rail = Style and total length in feet

Fillers = Width x Height for each filler

Custom cabinets

Width x Height x Depth, Door/Drawer configuration and sizes, hardware needed, drawer boxes, other notes. Ask if you need help.

Specialty hardware kits
If you are ordering your toe-kick material from us it is also necessary to order our leg levelers instead of IKEA's which function as both the feet for the base cabinets and the means by which the toe kick lengths attach to the cabinets. We aren't able to match the same groove that IKEA puts in the back of their toe kicks and therefore ours require different hardware.
A few technical details
For normal cabinet doors built for IKEA cabinets, we automatically assume they will need bored holes for the European style concealed hinges that IKEA provides to you. If you are getting grain matched doors or your are cutting the cabinet to a custom height then you will need to specify if they are lefts or rights (we assume all cabinets are cut off at the top), otherwise most cabinet doors are already reversible. Drawer fronts are pre-drilled to attach to IKEA's drawer slide hardware. Pullout doors will need to be drilled by the person installing the cabinets on site. (Pullout doors are cabinets that have a door that functions as a drawer.) All doors and drawer fronts are made with a 'reveal of 1/8" (1/16" on the left and right) between all cabinet doors and drawer fronts - this allows for clearance for the movements that opening and closing fronts need. All panels are made to match the full size of what they are covering, they can be made to overlap (so that one would bump into the back of the other) where multiple panels are needed around corners, though you will need to specify when that is the case. We will inquire where we suspect that may be the case (normally around peninsulas and islands.)
Lead-Time
When you receive a quote from us we will annotate each door and drawer front to correspond to the numbers assigned to the cabinets in your item list from IKEA. Please allow at least one to two business days before expecting a quote as our expert combs through every detail of every customers' project plans. We move fast but we don't like to rush the planning and measuring of something as important as your kitchen. "Measure twice, cut once!"
We can send you your doors, drawer fronts, and other components unfinished, clear-coated, primed, or painted any color available from Sherwin Williams. Buying your doors from us unfinished will drastically improve how quickly we can send them out. Unfinished lead time is around 2-4 weeks and projects with finish work can be out 2-4 months. All of this depends on how busy we are. You may pay extra (20%) to rush your UNFINISHED order in which case your lead time drops to five business days. Sometimes we are too busy to rush any orders, if this is the case we can usually work out some sort of deal over the phone at the time you place your order. All normal orders, finished and unfinished, are completed on a first-come-first-serve basis.
Checklist
So, your checklist of information to include when you are requesting a quote is as follows:
Your Kitchen/Project Plans with the "item list"

The

Style#

, Finishing Choice,

Wood Choice

, and any other style choices of the doors/drawer fronts

Extras to be included (end panels, toe-kicks, molding, etc.)

A shipping address so that we can included the shipping costs in your quote

Contact information so that we can get a hold of you if we have any questions for you
Once you believe you have all of your information together, please send it to sales@scherrs.com. Please know that sometimes our quote for your project will come from a different email address than the one you are sending your request to and may be filtered into your spam or junk folder! If you haven't heard from us in a week, check there first - then send us a follow up. We always try to respond promptly and thoughtfully to every email we receive.
Ok! Send your request on over! We can't wait to see what you're working on!