Adjustable Shelf: A shelf that rests on shelf clips that can be repositioned in pre-drilled holes up or down within a cabinet box.
Base Cabinet: A Base Cabinet is any cabinet that is installed on the ground. Base Cabinets in a kitchen are those that hold your counter-top and that might make up your kitchen island. Scherr's builds its Base Cabinets to a standard depth of 23-7/8" (about two feet), which is roughly twice the depth of upper cabinets.
Base Molding: Molding that is installed at the bottom outside edge of cabinets and walls to help unify the look and feel of a room and its cabinetry.
Best Way (shipping): We use several shipping companies, including FedEx, UPS, USPS, and a number of others that all provide multiple options for shipping. The sum of all these factors creates a long list of options for shipping. "Best Way" shipping tells us to use our best judgment in making that decision for you. Many times the best decision is obvious when we look at the list. Otherwise we choose from a few of the better options that we believe best balances the safety and speed of your delivery as well as the cost. We make the decision on how to ship your product that is, in our experience, the "best way."
Blind Corner Cabinet: A blind corner cabinet is a cabinet situated at the intersection of two perpendicular rows of cabinets that normally meet in the corner of a room. In order to access the cabinet, it typically needs to be constructed wider (or longer) than normal so that enough of the cabinet extends out from the corner in order to create a functional opening. This, however, creates a problem for people to reasonably access every portion of the inside of the cabinet. Half or part of the inside of the cabinet is not visible, hence its name: the "blind corner cabinet." Special blind corner cabinet hardware can be provided and/or installed for you as an upgrade.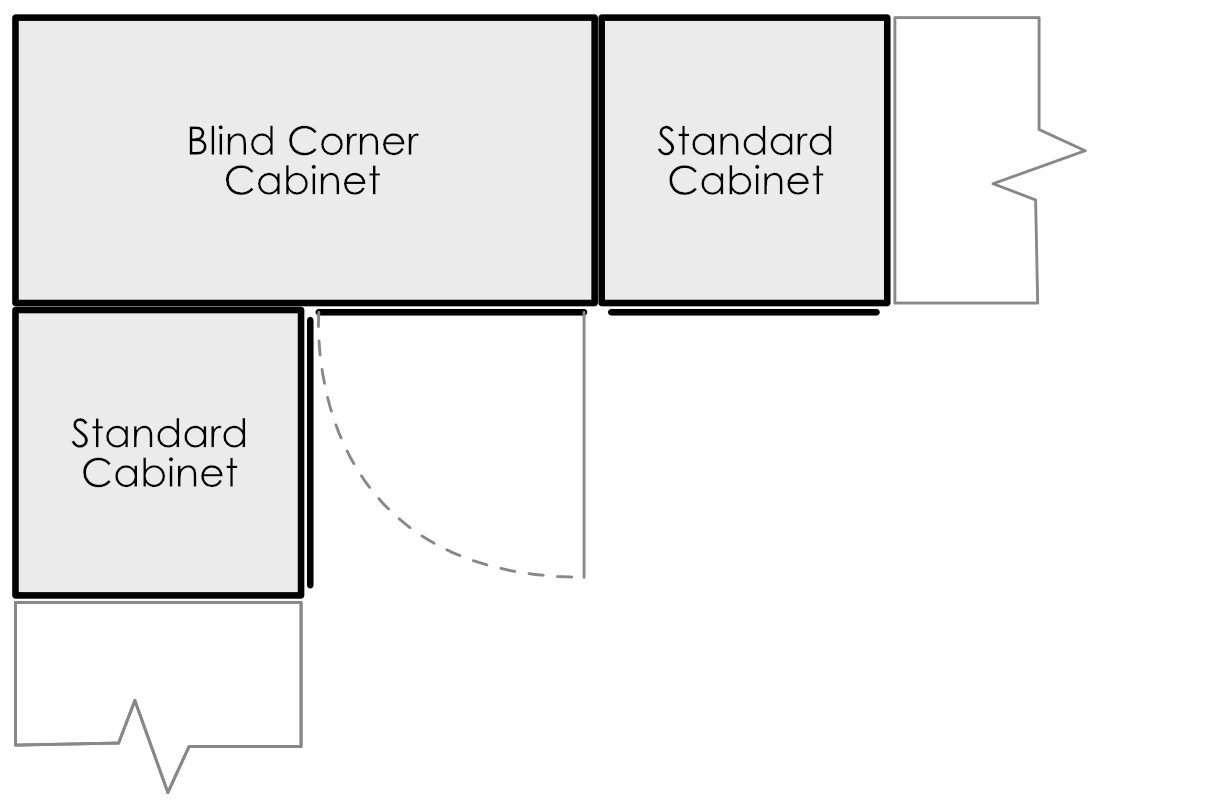 Cabinet Sub-Base: Cabinet Sub-Base refers to the area below the base of a cabinet and more specifically the components/construction used to allow your cabinets to set a short distance off the ground. It is never recommended to have the floor or base of your cabinets sit directly on the floor (to avoid water damage, pest issues, to allow for plumbing/gas/electrical services, to comply with food safety regulations in a professional setting, and to allow for even installation on an uneven floor, etc.)
Case Molding: Case molding refers to the molding around a door or window that functions to span the gap that exists between door or window casing and the rough opening it is installed in. When measuring a room to prepare for cabinets or built-in storage of any kind, it is best practice to work around the case molding.
Corbel: A corbel in cabinetry is a decorative structure meant to "support" a surface above it.
Cover Panel: Typically when a row of cabinets terminate, the lateral side of the cabinet box is visible. If the cabinet box material is not made to look presentable, a cover panel can be made to dress up the cabinet box. This is especially common with kitchen islands or peninsulas. Cover panels can be made to look very simple or can be made in the same style as your cabinet doors - in which case we usually refer to them as wainscot panels. Cover panels look best when they are sized such that their edges sit flush with the doors and/or drawer fronts they're next to. Cover panels can also be used as a division between cabinets of differing heights and/or elevations.
Crown Molding: Molding that is installed at the top of cabinets or where a wall meets a ceiling. Crown Molding helps to unify the look and feel of a room and its cabinetry. Crown Molding installed on upper cabinets often requires an additional support structure to be installed called "Crown Support as well as Crown Facial."
Custom Appliance Panel: Some appliances have the ability to have their doors modified to accept a custom panel. Our shop is equipped and capable of constructing our doors or panels to be installed on these types of appliances. Having refrigerator doors or dishwasher doors made to perfectly match the style and material of the rest of your cabinetry is a touch that really sets your kitchen apart from the rest. Check out a few examples here!
Deco Strip: A versatile type of molding. Made from hardwood, finished and profiled to match the rest of your cabinet doors/drawer fronts. Deco strips can be used as a simple molding in almost any way above, below, or on the sides of your cabinets to help unify the look and feel of your cabinets with the room. Typically it is a simple hardwood board milled to the same thickness as your doors and drawer fronts. Any or all corner edges can be profiled to your specifications. A 1/2" x 1/8" groove is sometimes cut in the center all the way down the back to aid in working with existing hardware that came with cabinets made by such companies as IKEA.
Divider: A divider is a horizontal divider between the front and back of the opening in a drawer box.
Dovetail: Dovetail joinery is the practice of making trapezoidal patterned cut-outs near the ends of two pieces of wood that are then joined perpendicular to one another. The patterned cut-outs are made so that once they are assembled they will naturally resist coming apart by means of their geometry. Check out our page on Drawer Boxes for pictures of dovetail joinery. We are proud to say that our standard drawer boxes are made with dovetail joinery at their corners. Dovetailed boxes are very strong and resist racking and coming loose over time.
Face-Frame: In face-frame cabinetry, a face frame is the portion of a cabinet that is visible around the outside of the doors and drawers. Additionally, the doors and drawer fronts rest against the face-frame when they are in the closed position. Typically, more of the frame is visible around the doors and drawer fronts in face-frame cabinetry. In past times, face-frames were a necessity for the structural integrity of a cabinet box. With modern materials, tools, and manufacturing techniques - face frames are no longer a necessity but rather a stylistic choice. Though we can work with existing face-frame cabinets when building your doors and drawer fronts, our cabinet shop has discontinued building or selling face-frame style cabinets. We believe that even for high-end cabinetry, frameless cabinets are superior in style, function, and material cost. In lieu of a frame, using precise joinery and better materials allows you to have a larger functioning cabinet opening. So, what do you end up with? This means larger doors and drawer fronts that provide a more uniform face across your entire cabinet set. This means wider and taller drawer boxes. This means easier hardware installation (fewer spacing blocks and brackets to work around the face-frame!) This means nothing to get in your way when you are storing large objects in your cabinets when you're cleaning them, or when you're performing maintenance on plumbing or electrical components. This means faster and easier assembly. This means a noticeable savings in material cost.
Fixed Shelf: A shelf, built into a cabinet box, that is not adjustable. Typically used when an appliance will be placed in an opening (i.e. microwave, oven, etc.) and the exact size needed is not anticipated to ever change.
FOB: The term FOB shipping point is a contraction of the term "Free on Board Shipping Point." The term means that the buyer takes delivery of goods being shipped to it by a supplier once the goods leave the supplier's shipping dock. In other words, the customer, or agent acting on behalf of the customer, is responsible for receiving the goods as they are delivered by the shipping company according to their delivery policies and are responsible for the package/pallet/crate's transportation thereafter as well as the packaging/pallet/crate's disposal once the contents are removed.
Joint: A lesser known definition of the word 'Joint' in cabinetry and carpentry refers simply to the joining of two separate components (i.e. one piece of wood to another.) Joints are often associated with movement such as with a hinge, but in carpentry it is the opposite.
"L" Filler: When a customer wants a cabinet to appear to sit flush against a wall when it is installed we will often recommend that "L Fillers" be used. An "L Filler" is exactly what it sounds like it is. It is a piece of trim made of two pieces of hardwood (finished and profiled to match the style of your cabinet doors) that matches the height of your cabinets and is attached on the outside of the cabinet box. The L-Filler can be easily trimmed with a table saw so that a perfect fit against walls (even if they are not even) can be achieved without altering the cabinet boxes themselves.
Light Rail: Light rail is molding that is installed on the underside of upper cabinets, typically flush with the doors above. Light Rail is meant to not only tie together the look and feel of a series of cabinets but it functions to hide or obscure under mounted lighting on your cabinets.
Miter: A miter is a diagonal or angled cut made in a component that is intended to by joined with a similar component with a similar miter cut. Typically in cabinetry, Stiles and Rails are mitered at 45 degree angles to create a more uniform looking frame around a panel. There are many odd situations that a mitered union can create a more even appearing flow in its construction and style. Another prominent use of mitered joints is with molding. An angled cut, even on material that could just be joined with a straight cut benefit stylistically from a mitered joint in that the seam becomes much less visible and the surface with which a joint can be made is greatly increased.
Mullion: In cabinetry a mullion is a division in the open frame of a door (classically applies to windows as well.) It is common in the upper cabinets of a kitchen where nice kitchenware is kept that glass be used in lieu of an opaque panel. Mullion grids are often times also built into the door to protect the glass in the frame but also to achieve a classic style. Scherr's can make classic mullion grids to match the style of the door as well as custom designed grids cut from MDF.
Nailer: A Nailer is a 5/8" thick, 3"-4" wide strip of particle board (Baltic Birch plywood is optional for very humid environments, or solid wood is offered as an upgrade when extra structural strength is needed in situations where cabinetry is "floating" on a wall) that is built into the top and bottom of the back of a cabinet to provide a structural substrate through which you can attach your cabinets to a wall. It is very important that you follow all instructions provided with your cabinets when attaching cabinetry to a wall. If you do not or can not follow all of the instructions that are provided with your cabinets, we highly recommend seeking help from a professional. If ALL instructions are not followed for attaching cabinetry to walls are not followed, you could potentially experience structural failure of your cabinets and could suffer serious injury. This definition page is NOT considered in any way part of the instructions to attaching cabinets to walls.
Overlay: The distance which a door covers the frame it rests against or connects to. There are several common types of overlay formations. Full Overlay: The door completely covers or hides the frame behind it. Normally when two cabinets sit side-by-side a small gap called a 'reveal' (normally 1/16" on the outside edge of both doors making for a 1/8" total gap) is still allowed on doors that are considered 'full overlay.' The reveal gap between doors is necessary on full overlay cabinet doors to keep doors and drawer fronts from hitting or rubbing against each other during operation. Frameless cabinets typically have full overlay doors. Half or Partial Overlay: Typically if a cabinet door does not have a 'full overlay' or 'inset' configuration then it is half or partial overlay. In this situation a person should be specific about how much of an overlay there is. (e.g. 1" overlay, 3mm overlay, etc.) Cabinets with face-frames typically have partial overlays. Inset (no overlay): It is possible for doors and drawer fronts to match or fit within the opening of a cabinet frame. In such a case, the doors and drawer fronts will actually sit almost completely within the frame of the cabinet so that it appears flush with the frame when they are in the closed position. We do not make cabinets in this style at Scherr's, though we can make doors and drawer and a customer or contractor can affix them to inset cabinets if they are knowledgeable of the subject.
Panel: 1: One of the components of a traditional panel-in-frame, drawer front, or wainscot panel construction. The panel is the broad (typically but not always, flat) component that fills or occupies the frame of a door, drawer front, or wainscot panel. Panels can be 1/4" - 1/2" completely flat sheet material or can be raised to match the thickness of the frame and be constructed out of solid wood. 2: The term panel can also be used to mean a section of a wall or cabinet that is constructed in similar fashion to a door but does not function as a door.
Partition: A vertical divider that is installed inside a cabinet box or a drawer box splitting the opening left to right. A partition typically goes the full depth of the cabinet when installed as a cabinet component.
Ply-Wood: This term has had an evolution of definitions over the years. In the past, "ply-wood" exclusively referred to thin layers of wood adhered to one another with grains running perpendicular to one another. Construction grade ply-wood would have had no finish grade outer veneer whereas the cabinet grade material would (at least one side would look good.) A standard sheet of ply-wood comes in 4' x 8' sheets, 3/4" thick.
Today this term refers to any sheet material with a real wood veneer on the outside face(s) making it look like a solid slab of wood with almost any type of core. This core can be made from particle board, MDF, ply wood, or a combination of these or other materials. Some of these ply materials can seem fake or flimsy. At Scherr's we stay away from low-grade ply material for our cabinets. All of our cabinets and cabinet components are rated to maintain their strength and aesthetics for at a minimum of 10 years. All veneers are made with real wood that can be stained, dyed, or clear-coated and share the same visual depth of character that a solid wood panel would. Some of the ply material that we use for hide-away shelves and special appliance applications are far stronger and more stable than solid wood with up to 13 layers of high-quality wood. There is one type of material that would seem to fit this definition but does not on a technicality and that is melamine. As one of the choices for interior cabinet materials we have maple melamine (as well as white melamine.) The maple melamine is not wood but is made with stylized melamine to look like maple and has a particle board core. Again, as far as ply materials go, our melamine particle board is higher-grade than the material that makes up most big retailer's furniture kits.
Profile: The style of the outside edges of a door, drawer front, frame, or trim piece. Can also refer simply to the shape of a solid wood edge. Check out our profile page for examples.
Pull: Any handle, knob, or other hardware for a door or drawer that gives a handhold to open the door/drawer. Can also be installed on false doors and drawers for purely aesthetic reasons.
Rail: One of the components of a traditional panel-in-frame door, drawer front, or wainscot panel construction. The rails are the horizontal frame members typically found at the top and bottom of a door. In some case where there are multiple panels within a door, there can exist one or several center rails. Frame pieces should be constructed from solid wood and exhibit little to no warping to ensure quality construction.
Reveal: The doors and drawers that make up the face of a cabinet collectively are often designed to be smaller than the cabinet box itself. The reveal is the portion of the cabinet box or cabinet face frame that is visible around the outside edge of the doors and drawers in front of it. Scherr's cabinets come with a standard 1/16" reveal on the left and right edges-which, when set side by side with another cabinet with the same reveal, comes out to a uniform 1/8" gap. The tops of cabinets have a 1/8" reveal and the bottoms are flush. We have found that a 1/8" spacing between functional doors and drawer fronts is the minimum space needed to allow for the proper functioning of the doors and drawer fronts without the components running into or rubbing up against each other.
Roll-Out Drawer: A roll-out drawer is usually a shallow drawer not attached to a drawer front. Normally a cabinet with roll-out drawers will have a normal door that opens up to three or four shallow dovetailed drawer boxes with hand scoop cutouts in them. Check out one example of roll-out drawers in one of our projects. (You may need to page through the pictures to find the example.)
RTA (Ready to Assemble): RTA cabinets are sold unassembled and flat packed for easy shipping. Normally RTA cabinets are pre-built and stockpiled in standard configurations or styles. After purchase they are assembled by the customer on site. RTA cabinets are typically designed to be mass produced in a factory, tightly packed on shipping containers or freight trucks, and fit nicely stacked on shelves in big-box retail stores.
While our cabinetry is shipped to the customer unassembled, much like RTA cabinets are; we build them differently and for completely different reasons. We've flipped RTA cabinetry on its head and have come away with a completely different product. Our cabinetry is custom designed for your needs-every cabinet is different. Our cabinetry is built with the highest quality material that we can get our hands on. We use a combination of time-tested traditional carpentry that honors the tradition of the trade, as well as industry leading technology. The goal is quality, character, and personalization. Cabinets designed for you. Cabinets assembled by you.
Shaker Style: A style of furniture making that was inspired by the United Society of Believers in Christ's Second Appearing (aka 'Shakers') in early American history. They believed in living simple, minimalistic, and honest lives-which reflected in their style of furniture and wood working. Shaker style furniture has made a comeback in popular design through modern minimalism. Shaker inspired cabinet design is characterized by simple, durable construction with little to no embellishments. Take a look at our shaker style doors.
Sink Rail: Industry standard face-frame base cabinets typically have no top as it is expected that they will be covered with a counter top anyway but also because the face frame provides some structural integrity to the construction of the cabinet box. Our cabinets are frameless cabinets, therefore it is necessary for the structural integrity of the cabinet box that all cabinets be made with a 3/4" top made out of the same material as the bottoms, as well as left and right legs. The only exception is with sink base cabinets as it is expected that the sink basin will occupy the space where the top panel of a cabinet box would normally exist. In order to maintain that structural integrity and also to provide a backing for false drawer fronts or tip-out drawer fronts, we make sink rails made from hardwood that match the finish and style of the rest of your cabinets. Sink rails come in different forms, but always stretch between the left and right cabinet legs at the front of the cabinet at the top. Sometimes it is necessary to make a center sink rail in addition to the top sink rail, and if there are two false drawer fronts or tip-out drawer fronts then a sink rail spreader is made to connect the center and top sink rails.
Slab: As it relates to doors and drawer fronts, 'slab' indicates that either the door or drawer front is made from one piece or is made to look like it is one piece of material. In reality, 'slab' doors are made from a veneered ply with either a MDF (Medium Density Fiberboard) core or a ply-core, and are therefore actually several materials. The veneer and edge-banding are all that is visible and it is manufactured in such a way that it looks like it is one piece of wood. In other cases when we make a solid-wood slab door or drawer front, they are indeed solid wood. Though in this case as well, especially for wider slab doors and drawer fronts, it is necessary to edge-glue several pieces of wood together to make a panel from which we cut your slab door or drawer front. Reasonable effort is made in our shop to try and line up similar patterns in order to give the visual effect of obscuring the glued joint.
Solid wood slab drawer fronts are common, but solid wood slab doors are not. We can make them, but our experienced sales team may steer your away from them. Why? The wider a slab of solid wood becomes the more susceptible it is to cupping and warping. Wood naturally tends to cup, bow, and twist. It was once a tree after all and trees are constantly in motion from the wind, from its own growth, and other forces. We have heard people say, "Carpentry is not what it used to be! Now everything is made from fake stuff. Nobody uses solid wood anymore!" While we may agree that there are too many cheap materials and poorly constructed cabinets out there. Some of these changes have been incredibly positive. The ability to achieve near-perfect structural stability in wood has revolutionized carpentry. In some cases, these materials can actually out-last and out-perform solid wood-especially when you're working with wider or longer solid wood slabs.
All that considered, we'd be happy to make solid wood slab doors for you, so long as you know what you're getting into. We can slow warping and cupping by adding battons to the backs to help brace itself against its inevitable movements and we can alternate grain directions when we glue up larger solid slabs. Just be warned, there will be movement in your solid wood slab doors over time.
Stile: One of the components of a traditional panel-in-frame door, drawer front, or wainscot panel construction. The stiles are the vertical frame members typically found to the left and right sides of a door. In some case where there are multiple panels within a door, there can exist one or several center stiles. Frame pieces should be constructed from solid wood and exhibit little to no warping to ensure quality construction.
Stretcher: A horizontal divider that is installed inside a cabinet that functions as the stop as well as the visible division between where drawers/drawer fronts are built into the upper portion of a cabinet and doors are built into the lower portion of a cabinet.
Tip-Out Drawer: A tip out drawer tilts downward to reveal a small compartment. Tip-out drawers are typically installed in sink cabinets where there is not enough room for a standard drawer because of a sink basin or plumbing. Tip-out drawer kits can be bought for your project, just ask one of our experts while you are placing your order! Check out some examples of what tip-out drawer kits look like here!
Toe Kick, Toe Base, Toe Molding: As the name implies, this is the material that is placed below a cabinet, (typically recessed a few inches but sometimes flush with the face of the cabinets) to hide the open space as well as the cabinet sub-base construction below your cabinets. The toe-kick space is recessed a few inches to create room for your feet so that a person can stand closer to cabinets or a counter. Typically Toe-Kick molding is a very simple veneer made to match the style of your cabinets, especially when it is recessed as it is relatively hidden from site after installation. Toe-Kick molding can be made to be decorative, which is common to do when the toe board is built to be flush with the face of the cabinets.
Upper Cabinet: An Upper Cabinet is one that is installed attached to a wall, typically above a base cabinet. Scherr's builds its Upper Cabinets to a standard depth of 11-7/8" (about one foot), which is roughly half the depth of base cabinets. Upper Cabinets are attached to the wall with heavy duty screws or similar/stronger hardware through a nailer (which is built into the top and bottom of all wall cabinets) and must be attached to wall studs.
Veneer: A Veneer is any sheet material that has a thin layer of real wood on its exterior faces. This is very popular in cabinet and furniture construction for three main reasons. 1. A veneer will have all of the desirable qualities of sheet material which stays extremely flat and smooth (much less bowing, twisting, cupping when compared to solid wood.) 2. As wood ages and its moisture content changes (especially with large or thick pieces of solid hardwood, there is the possibility that it can crack or split simply from its own internal stresses. A veneer doesn't have the same extreme internal stresses. 3. A veneer will have the same appearance as a solid wood panel at a fraction of the cost. There are a few drawbacks to having a veneer over solid wood. 1. Solid wood is much stronger. 2. Solid wood can handle being refinished much better than veneer can (sanding through a finish without sanding through a veneer is VERY difficult!)