Cabinets Assembled By You™
Drawer Boxes
Drawer Box Style for Your Cabinets
There are two different types of drawer boxes available for your cabinets. Both options are custom made here in our shop. If you prefer another type of drawer box that we do not list, let us know and we will see what we can do for you.
Solid Wood Dovetail Drawer Box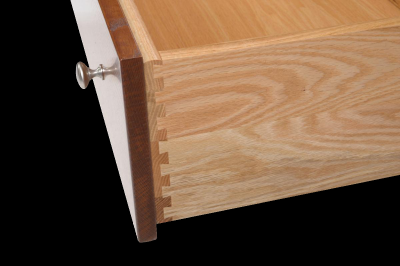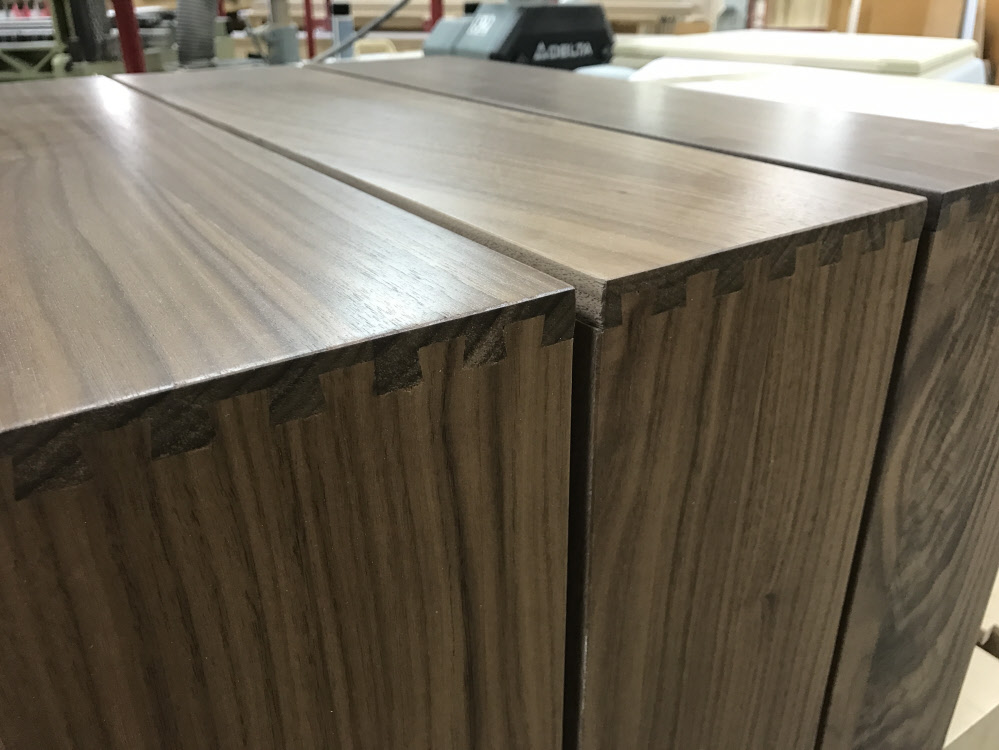 Solid wood dovetail drawer boxes available in several different wood species (Check out our page listing the
Wood Species for Drawer Boxes
for more information.) You can get the dovetailed drawer boxes unassembled, assembled, or assembled and finished. Our solid wood dovetail drawer boxes have the dovetail joint in all four corners. The 5/8" thick solid wood sides are available in several different wood species with a 1/4" matching plywood bottom. The natural color range of the wood is allowed - select wood wood is also available for most wood species.
The standard wood species we use for drawer boxes is maple. Maple is great for drawer boxes because it's very durable, affordable, and bright in color. Lighter colored woods provide the effect of naturally reflecting light inside the drawer allowing you to better see what's inside! It is possible to have dovetailed drawer boxes made from almost any type of wood. It can be a great way of making your kitchen stand out!
Melamine Drawer Box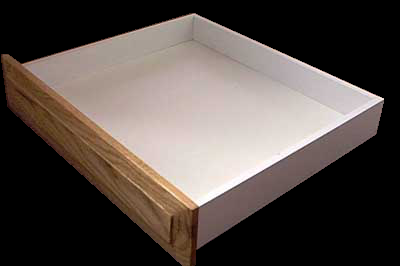 Our melamine drawer box is available in white. The melamine drawer boxes are available either unassembled or we can assemble them for you. The melamine drawer box is an economical drawer that utilizes a combination wood dowel/confirmat screw construction in each corner providing exceptional strength with 5/8" thick sides. The material is highly resistant to moisture, staining, soiling, scuffing and scratching. In manufacturing, panels are thermal-fused under heat and pressure to permanently bond the super-saturated paper to the substrate (a 45 pound density industrial-grade particleboard.) This eliminates delamination and provides a highly realistic, natural appearance. You can get these drawer boxes either unassembled or we can assemble them for you.