The Following are our choices of drawer tracks for your cabinets
Blum 230m, Self-Closing 3/4 Extension Drawer Runners, 100 lb Rating
LIFETIME GUARANTEE!
The Blum series is the runner of choice when performance, function, and durability are desired. Features include:
Blumatic Self-Close/Stay closed action

Durable epoxy coated steel profiles, cream in color

Smooth and quiet nylon rollers

Bottom corner mounting

Captive right-hand profiles

Tolerance compensating left-hand profiles

Double warning stop with lock-out position

Exceeds BHMA Grade 1 requirement
Blum 430e Full Extension Drawer Runners, 100 lb Rating
LIFETIME GUARANTEE!
Blum 430e full extension runners enable total access to the drawer. Because the side clearance is the same as the Blum 230 runners, all drawer boxes can be the same width. Features include:
Smooth and quiet nylon rollers

Bottom corner mounting

Double captive profiles

Safety lock to prevent drawer removal

Intermediate profile lock out

16 mm over-extension

Exceeds BHMA Grade 1 requirements
Knape & Vogt 8450FM Full Extension Drawer Slide, 100 lb Rating
100 lb class drawer slide with best-in-class soft-close module features patented Force Management™ Technology that delivers the lowest opening pull force while ensuring effective dampening closure that eliminates drawer slamming
Full-Extension, telescoping slide

For 32 mm casegood construction

For commercial and residential furniture and kitchen cabinets

Low profile for shallow drawers

1/2" Width, 1.79" Height

Soft-Close

Unhanded slides

Easy lever disconnect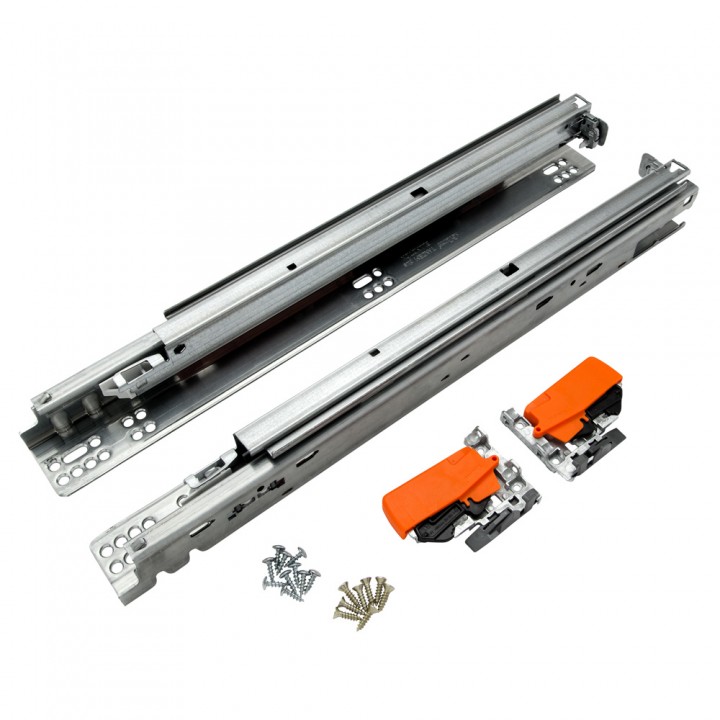 Blum TANDEM Full Extension
LIFETIME WARRANTY
TANDEM is a top-of-the-line series of drawer runners offered by Blum. This versatile system mounts directly underneath to show off the craftsmanship of wood drawer instead of compromising their appearance with bulky hardware. Inside each drawer runner is a concealed mechanism containing 14 synthetic cylindrical rollers, that control vertical and horizontal forces and provide TANDEM's smooth and quiet running action.
Locking devices automatically engage and self-align when the drawer is installed. Simply place the drawer on the runners and close. To remove, squeeze the orange levers underneath and pull the drawer forward.
The BluMotion self-closing action is an important feature for the homeowner as well as the installer. In the home the drawer easily self-close at 2" from the cabinet. TANDEM runners stay retracted while the cabinet is handled. These and other numerous "Global Customer Benefits" make TANDEM the perfect choice for cabinets & furniture.
Tandem exceeds the ANSI/BHMA requirements for grade 1 performance in dynamic load capacity, cycle life and static loading. This means you can design drawer for pots and pans in standard or roll-out tray configurations with confidence. What's more, TANDEM is backed by the Blum Lifetime Warranty to assure performance for the long run. When you specify TANDEM runners, you've chosen the best!